Visual Brand Communication

visual communication of the brand
CLIENT: Mladý Kokos
Project Mladý Kokos is a stylish food brand riding a wave of a healthy modern food with an overlap into the lifestyle.
And he also wants to present it. We've created several types of visuals for web and promotion,
from major landing illustrations to those that visually explain and introduce visitors to content.
KEY WORDS

bio – alternative – vegan – healthy – fresh
Illustrations are designed in layers so that each element can be on the web
moving in dynamic parallax.
LANDING ILLUSTRATIONS
Three landing cartoon illustrations on the product website homepage.
Distinctive color palette in line with the brand.  Animation not only quickly catches the customer
when they enter the site, but also shows that coconut can be enjoyed both in the beach bar and on Náplavka or in the labor office.
CHARACTERS
Character design is important even if the characters are not explicitly mascots representing the company,
but they illustrate the mood in the illustration and allow the customer to identify with the situation
and imagine life with the product.
ADDITIONAL ILLUSTRATIONS
Other illustrations were created as part of the main benefits communication and emphasis on the brand's arguments.
They show the benefits, product uses, or age range of customers.
GAMIFICATION
It was designed to establish communication with the customer and keep it for a long time
gamification with an extensive illustrated library of symbols and rewards.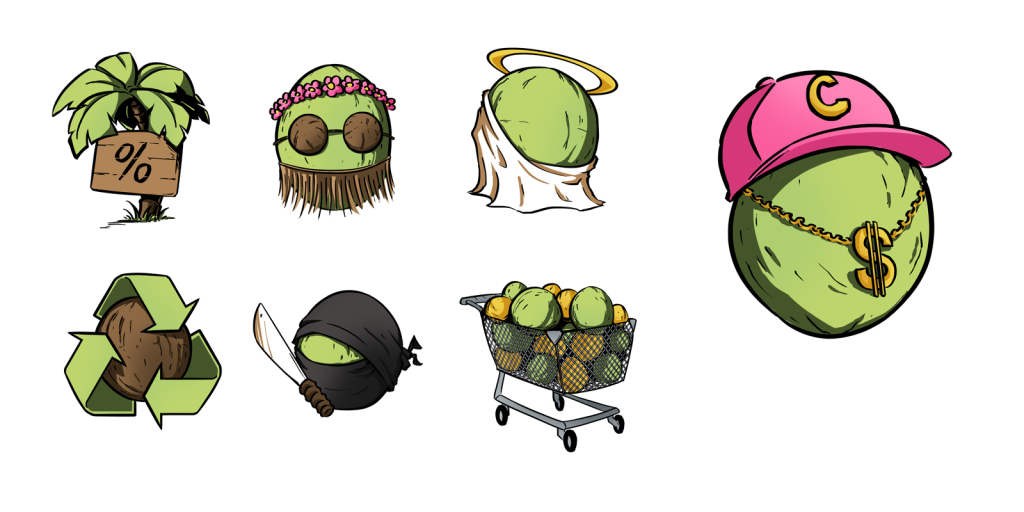 ANIMATED JINGLE 
The main illustrations were also used in an animated jingle.